Diese Webseite is auch in deutscher Sprache verfügbar!
---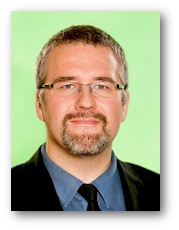 Dr. Hubert Feyrer
Dr. Hubert Feyrer has studied Computer Science at the University of Applied Sciences (Fachhochschule, FH) in Regensburg, Germany, and has specialized in operating systems and system-level applications. After finishing his studies, his work in academia included working as a pilot user of a nation-wide system for electronical libraries, administration of the department's Unix computers, creation of infrastructure in the areas of Internet and IPv6, building of a video rendering cluster with 45 machines for the Regensburg City Marathon as well as giving lectures on system administration, operating systems and open source at the University of Applied Sciences in Regensburg, Germany, and at the Stevens Institute of Technology in Hoboken, NJ, USA. Besides this, he works for the NetBSD project where he has helped building up the 3rd party application infrastructure and cares for public relations. His PhD thesis was in information science at the University of Regensburg was on the Virtual Unix Lab (vulab), a training system for Unix sytem- and network management, which also considered tutoring and user adaption. Right now, he works in the areas of information security and IT-governance, with an emphasis on ISMS, ITSCM and IT risk management.

Here is a list of publications; a full CV is available on request.
---
Here's your personal fortune cookie:


Here is a simple experiment that will teach you an important electrical
lesson: On a cool, dry day, scuff your feet along a carpet, then reach
your hand into a friend's mouth and touch one of his dental fillings.
Did you notice how your friend twitched violently and cried out in
pain?  This teaches us that electricity can be a very powerful force,
but we must never use it to hurt others unless we need to learn an
important electrical lesson.

It also teaches us how an electrical circuit works.  When you scuffed
your feet, you picked up batches of "electrons", which are very small
objects that carpet manufacturers weave into carpets so they will
attract dirt.  The electrons travel through your bloodstream and
collect in your finger, where they form a spark that leaps to your
friend's filling, then travels down to his feet and back into the
carpet, thus completing the circuit.

Amazing Electronic Fact: If you scuffed your feet long enough without
touching anything, you would build up so many electrons that your
finger would explode!  But this is nothing to worry about unless you
have carpeting.
		-- Dave Barry, "What is Electricity?"

---
Interests:
Information security, ISO 27001, risk management, security awareness, information security management systems (ISMS), IT service continuity management (ITSCM), data privacy and data protection
NetBSD: My blog, the NetBSD-part of my CV, and various informations about the successor of the Berkeley Software Distribution. (NetBSD rules!)
g4u: Harddisk Image Cloning for PCs
Classes: Misc:
---
This page has been accessed 611440 time.
---
Copyright (c) Hubert Feyrer. All rights reserved.
$Id: hubert_feyrer_english.html,v 1.23 2015/02/09 17:12:13 feyrer Exp feyrer $